iDealBed 4i Custom Adjustable Bed Base, Wireless, Massage, Zero Gravity
Free Shipping on All Orders
SKU:

id-4i-cm

Availability:

In Stock

Shipping:

Free Shipping
Description
iDealBed 4i Custom Comfort Adjustable Bed Base
If you are shopping for a fully-featured adjustable base at a reasonable price, look no further! The iDealBed 4i Custom Comfort includes virtually unlimited customization and fully loaded features to get the best out of your nights rest. The full body massage includes 3 intensity levels for both head & foot with 4 different massage modes including wave, pulse, and constant. The convenient timer setting allows you to set the massage to automatically turn off after 10,20 or 30 minutes at a time. A built-in remote flashlight and under-bed lighting feature make it easier to safely get out of bed at night without disturbing your partner or stumbling to the light switch. The easy to use remote includes several pre-set buttons to quickly adjust to your favorite positions, such as Zero Gravity, Anti-Snore, and Lay Flat. If that's not enough, two programmable memory position buttons are also included to create your own. The iDealBed 4i Custom Comfort is designed to to change your lifestyle with full customization for any type of needs whether its for comfort or medical. If you are searching to enhance comfort in the bedroom at a great value without compromising on features, the iDealBed 4i Custom Comfort is for you!
Features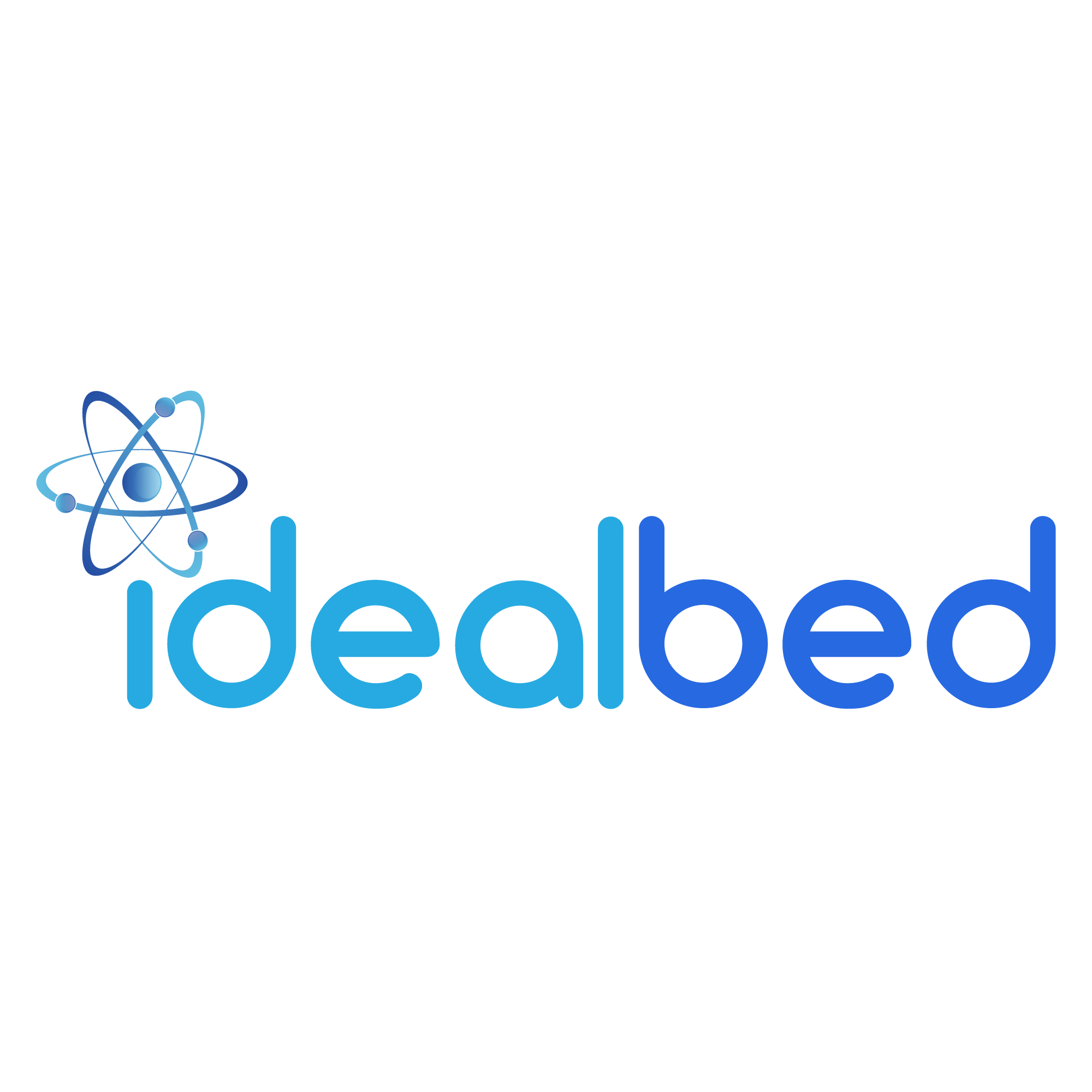 A fully featured 18-button, back-lit remote to customize settings to your preferences
Full articulation which allows the head to be adjusted up to 70° and the foot up to 42°, giving you the ability to adjust to virtually any position or angle
Ultra-quiet power lift motors with a heavy lift capacity of up to 750 lbs. (per unit) by Leggett & Platt
Full body massage with 3 intensity levels, 4 modes including wave, pulse and constant with a 10 to 30-minute timer
Under-bed night light
Remote flashlight
3 pre-set position buttons including Zero Gravity, Anti-Snore and Flat
2 programmable memory positions which allow you to create a custom pre-set for your favorite positions
3-in-1 Height leg design to adjust the leg height from 4", 7" to 11" total
Reliable 10-year manufacturer warranty provided through Leggett & Platt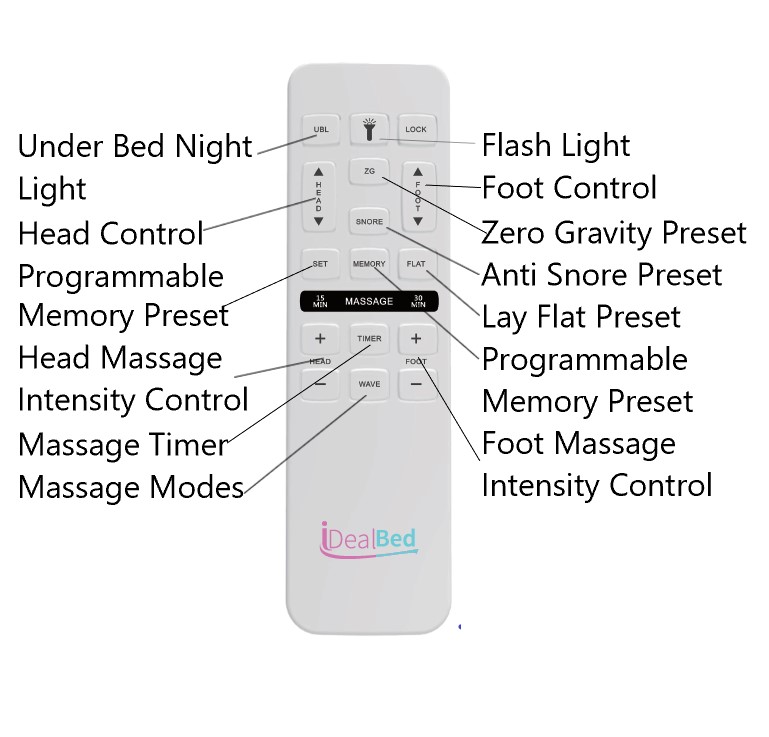 Dimensions

Warranty & Protection Plans
Standard Manufacturer's 1-3-20 Limited Warranty
1 Year Full Warranty
2nd & 3rd Year Limited Warranty
4th through 20th Year Limited Warranty
How does my Adjustable Bed Warranty Work?
| | | |
| --- | --- | --- |
| Year | Standard Manufacturer's Limited Warranty | Optional Guardsman™ Protection Plan |
| 1 | Covered | Covered by Manufacturer |
| 2-3 | Labor and shipping costs not covered | All parts and costs covered, with in-home repair included. |
| 4-10 | Only steel base parts covered. Any electronics, electrical components, drive motors or massage motors are not covered. Customer pays shipping, labor, and any other parts costs | All parts and costs covered, with in-home repair included. |
| 11-20 | Only steel base parts covered. Any electronics, electrical components, drive motors or massage motors are not covered. Customer pays shipping, labor, and any other parts costs | 10-year protection has expired, bed still covered under manufacturer's warranty |
Write a Review
Both Deal Beds and I forgot to mention one important fact. What happens when the power in your house goes out and you in your bed in your favorite, and that position is not "flat"? On the power cord, there is a little compartment which requires 2 9volt batteries. Put the batteries in and the bed will work without ac power. Don't get cheap and try to use this as your alternative power source for continuous use. But if you worry about your feet being caught in the air during a power outage, never fear. Idealbed is here

If you don't want to be held prisoner, don't buy it

This bed combined with the right foam mattress will give you every excuse you have ever needed to get into bed and STAY there. It was so difficult to put together. You actually had to screw a whole 4 legs into the base and then flip it over. Unfortunately, the remote is laid out in such a way that you can't exercise your brain trying to figure it how to use it. If you can't figure it out in less than 10 nanoseconds, please consider seeking professional help--for yourself, not the remote. In short, I LOVE IT!.

No more Snoring, And Hello, Dreams!

Toyed with the idea of getting an Adjustable Bed for a Decade. I have Sleep Apnea and CFS/Fibromyalgia. Ok..I wonder why I waited... and I studied them all. This bed is well crafted sturdy and aesthetically pleasing. I now sleep deeply with the head raised..and deeply enough to dream again! Love this bed!!

Bed arrived perfect on time, was a breeze to install. All quality materials and I am a happy sleeper now. Always had back problems special with sleeping ( I am 6.5 ) and now I get a good night rest.

This product is great, unbelievable quality for the price. I'll admit I was skeptical and thought there had to be a catch. No catch at all here folks, just a very well made product with a plethora of features for a fraction of the price anywhere else. My iDealbed experience has definitely been better than "ideal". I did hours of research daily for weeks on adjustable beds and not one model in store or online I found could touch this base in terms of quality and features for the price. I cant express how happy I am with this purchase and recommend it to anyone and everyone looking for an adjustable bed.

Best Quality - Best Price

First, let me say iDealBed's customer service is awesome. My beds were misdelivered by FedEx Ground and I was getting nowhere with FedEx in locating them (panic) After calling iDealBeds customer service all anger and anxiety GONE. They put me at ease and assured me that if by chance they could not locate the mis-delivery they would expedite 2 new bed frames ASAP. Asked me to let them handle it. Problem Solved. Fortunately, I got my beds the following Monday and a couple days later iDealBed's customer service called me to follow up. Awesome customer service. Now, the bedframes (Split King=2Twin XL's), I researched the crap out of the "adjustable bed frame" market. Stumbled upon iDealBed and found the BEST price anywhere. Read the reviews and pulled the trigger. I'm 100% satisfied. Solid; Well made bed frames that were easy to assemble. THe gray trim you see in the pic hangs down just enough (about 2") to hide any gap between my king headboard and base. I would definitely recommend this product to anyone wanting to save a ton of money over mattress store prices. Also, we love the under-bed lighting. I couldn't be happier with my iDealBed experience.

Didn't think much of an adjustable bed with all these features for the price I paid in the queen size, it was a 4th of the price of most I saw locally in store but thought hey what the hell I'll take the risk for the savings, they have a return policy and a warranty so if it doesn't work out, I'll return or donate. We'll lets just say after receiving this adjustable bed im blown away, this adjustable bed is solid, I mean solid, the engineers at iDealbed that designed this product are genius, I come from an architect background and that's my line of work and I have to say this is quality, technology, and engineering at it's finest. Assembly was a breeze and almost nonexistent, within a few minutes of unpackaging I had the base set up and working. The bed is heavy but thats going to be expected for any well built product with a solid steel frame. I was told in stores adjustable beds vary in quality vastly and that's why price ranges differ so much, yes well this bed was much better quality than most in stores, the quality compared to the highest end models that I wasn't even looking at purchasing. The motors are very smooth and quiet when adjusting the head and feet. The remote lights up when using it so you can see it at night, the massage is soothing, the automatic adjustment buttons on the remote make it so convenient. I'm definitely a fan now and interested in any other products made by this brand. I always keep expectations low, this time around I got a big surprise. I can't recommend this product enough, even if the price was double or triple, I would still say this is a great value and would choose this over others I've tried.

Very Happy, Great product

Great product, very satisfied with my purchase. Works as its supposed to and looks good, better than it does in the pictures shown online. Its well built and operates smoothly, the quality is great.

Amazing Quality and saved thousands

I wish I found dealbeds sooner, this adjustable bed is amazing. The quality is much better than I expected for the price. It has all the bells and whistles and has made our 5 year old mattress feel like new again. We cant wait to get to bed every night now, sleeping in the zero gravity position is a big difference from laying flat, it really does take all the pressure off my lower back. Reading and watching t.v. is now enjoyable every night. The best part is the price is unbelievable, I'm not sure if the price is just a promotion or sale but we shopped around for a little while and nothing came close for an adjustable bed of this quality and amount of features. The functionality is flawless and the motors are very quiet when adjusting. I would highly recommend this adjustable bed, I dont know much about the different adjustable bed brands except that there are a few, I couldn't find any iDealbed adjustables locally but I will say this will be my brand of choice if I ever need an adjustable bed again.

Much Better than Expected

The iDealbed 4i adjustable bed caught me by surprise, I truly wasn't expecting the quality or features of this base to be the best. I was wrong, it blew my expectations. First off, I've been shopping adjustable beds for the last 5 months, I did so much research, I became an expert on adjustable beds. I purchased this base to replace an existing adjustable bed I had for 10 Years which was a Leggett & Platt branded model. I spent a little over $3200 on that base.
First off, the base shipped lighting fast, I received an email that my order shipped about an hour or two after placing my order. Then again to my surprise 2 days later FedEx was at my door delivering the bases, I expected the product to be delivered by a motor freight company in a few weeks. I was a little confused at first by the size of the boxes as they were also much smaller than I expected, thought it could of been the wrong product but the box was labeled iDealBed 4i. So i took the boxes to my room, opened the first package and the base is folded in half. The base was mostly assembled all I had to do was insert two pins, attach the legs then plug in, it literally took me about 1-2 minutes. Also, I noticed when assembling the bases, the motors actually said Leggett & Platt on them, which leads me to believe iDealBed is using Leggett & Platt to manufacture this product as the manual also states the warranty is through Leggett & Platt.

After setting up my new bases and placing our mattresses on them, I gave them a quick test run, the motors are extremely silent, I could not hear a thing while adjusting the bases, the construction is very solid, the quality is impeccable. The amount of features on the base is amazing, every other base I've shopped for locally and online with comparable features and quality was triple the price. The most convenient features to me is the zero gravity pre set and the programmable memory buttons. The massage is really nice and has different massage modes for different feels and intensities, its not really a feature i use much but it's relaxing. A huge plus I didn't realize this adjustable bed has is the under bed night light, such a life saver when you get up in the middle of the night.

Bottom line is I haven't been happier ever with a purchase like I am with this adjustable bed, let me save you the headache and confusion of all the research, this adjustable bed has it all, buy it now and you'll be happy you did. One warning though, it's on the heavier side, but you should expect that from a well built high quality adjustable bed.

Thank you iDealBed for a quality product and thank you Dealbeds.com for the amazing service and fulfillment!
Returns Policy
You may return most items within 30-days of delivery for a refund. The customer is responsible for the return transportation cost in the event of cancellation or return once an order has been shipped or submitted. Custom ordered products and bedding accessories are not eligible for return. Damages If a product arrives damaged, please refuse delivery of the shipment and contact our customer care. If a shipment is not refused at the time of delivery, you are responsible to notate any visible damages or imperfections on the delivery receipt upon signing for acceptance. If you are unable to fully complete your inspection, please indicate "Subject to Inspection" on the delivery receipt or "Possible Damages". We will arrange for a replacement to be sent right away at NO cost to you or issue a full refund if the above mentioned guidelines are followed. Returns Most items can be returned or exchanged within 30-days of delivery. Exchanges can only be made for products of equal or greater value. In the event that the replacement items exceeds the cost of the item being exchanged, the customer will be charged for the difference in cost. All transportation costs are applicable for cancellations, returns and exchanges once an order has been shipped or delivered. Mattresses and furniture must have the original law tag attached and in new, sanitary condition with no stains, tears, burns or any other imperfections caused after delivery. (Limited to one exchange per purchase) *Adjustable bases are non-returnable. All refunds will be credited back to the card and/or account used to make the original purchase, minus any applicable return transportation fees for freight items. Please contact customer service for an estimate of return charges for freight, as fees vary with item size, weight, and carrier. Promo Items Any promotional items received with original mattress purchase such as pillows, linens, mattress protectors, etc. are non-returnable and will be deducted from the return credit. This includes temporary promotional offers valid at the time a purchase is made or at the time of exchange or return. Bedding Certain Products that are considered "hygiene" items can not be returned, such as pillows, sheets, linens, mattress protectors etc. Processing Time If a product is returned you should expect to receive your refund or store credit within 3 to 7 business days after we have received your product and completed inspection. How? If you need to return an item, simply call our customer service department or login to your account, view the order using the "Complete Orders" link under the My Account menu and click the Return Item(s) button. We'll notify you via e-mail of your refund once we've received and processed the returned item. Check out as a guest? Please call Customer Service at 800-996-4340 to start the returns process on your order.
Shipping
Where do you deliver? We offer FREE delivery to anywhere within the contiguous 48 States and select areas in Canada. For customers in Hawaii, Alaska, Guam, Puerto Rico and other areas considered a U.S territory or only accessible by ferry, please call us for a shipping quote. Please call our customer service for any questions or further details. 1-800-996-4340 What is Standard Delivery? Standard delivery service is FREE with all orders. This delivery service for larger items, such as mattresses, adjustable bases and furniture is to your front door. Delivery is by appointment, for which you will be contacted by phone call for scheduling once your item has arrived at the local distribution center. Appointments are based upon availability and can be scheduled at your convenience for a date and time window that works best for you. What is White Glove? Does it cost extra? White Glove Delivery is FREE for select items and only if shown on the product page under delivery options. Otherwise, White Glove Delivery Service is available upon request for an additional Fee. This service includes set-up of your mattress or adjustable base in room of choice along with removal of all debris. Removal of your existing mattress is available. Cost for this service may vary. If you are in need of this service please be sure to mention this at the time of your purchase. Delivery Damage Disclaimer Please inspect the contents and condition of delivery before signing and accepting shipment. If you notice any damage that has occurred during transit, please note the damage on the delivery bill and refuse shipment. Please contact us immediately by phone call or email to notify us, and we will arrange for a replacement to be sent right away. Call 1-800-996-4340 or Email: support@dealbeds.com What about small items like pillows and sheets? Smaller items such as but not limited to compressed mattresses, select bed sets, pillows, bed sheets and other bedding accessories: All products include FREE shipping. We use a variety of carriers, depending on the product and region. Smaller items will be shipped with common carriers such as USPS, FedEX and UPS.
When you need to buy something, you don't want to wait. With PayPal Credit, you can enjoy special financing offers like this one: No Payments + No Interest if paid in full in 6 months on purchases of $99 or more. Buying with the power to pay as you choose and still enjoying the security and reliability of PayPal...now that's magic
HERE'S HOW IT WORKS

1

2

3

At checkout, select Klarna as your payment option and continue

Enter simple information and know instantly if you're approved

That's it! Your purchase is complete

Klarna offers financing options up to 36 months.

*Both options are available at checkout.